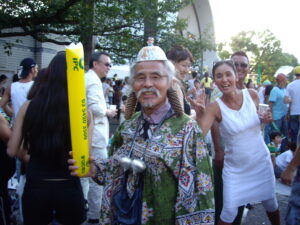 Yesterday I went with my friend Hiroshi to the annual Brazilian Festival in Tokyo's Yoyogi Koen (Park).  I am embarassed to say that this was actually the first time I had been to Yoyogi and also the first international festival that I have been to since I first came to Japan.  Well, as the old saying goes, "better late than never". 
Hiroshi and I met at Harajuku station and then walked from there to Yoyogi park.  Along the way we could see some of the Harajuku girls who are famous for the bizarre outfits that they wear.  When we arrived at the festival things were still a little bit slow but that was good because it made it easy for us to que up for food and drinks.  We hung around, chatted, said hello to some friends of his that were working one of the Brazilian food stands (yatai) and then crossed over to the other section of Yoyogi to sit down and relax.
A few hours later the sounds of Samba music and the beating of drums brought us back to the festival.  Now, it was a truly Brazilian festival with things in full swing.  I spotted this guy wearing the silliest outfit ever and knew that he was going to be my picture-of-the-day.  All in all it was a fun time and I will certainly be going again next year.