Last night we got rocked with a 2-stage earthquake that had me hustlin licketysplit down the 5 flights of stairs at my Danchi doing the Texas Two Step.  I had hung around in my apartment for the first go-around but then after about 5 seconds of no movement the second Act started a lot stronger than the first and I decided I wasn't hanging around for it.  Apparently the USGS ranked it a 7.1.  If you would like to check it out you can go here-
http://edition.cnn.com/2009/WORLD/asiapcf/08/09/japan.earthquake/
In 4 and a half years I've been through a number of quakes, but last night's was the first that actually sent me hi-tailing it outta the building.  Anyway, I eventually got to sleep only to be woken up by the rain … the wonderful sound of torrential typhoon strength rain beating down on the rooftop of my Danchi and waking me up at 5 in the morning.  They (being the Japanese meteorologists) say that we're officially finished with the rainy season, but the CrazyGaijin says "wrong boys it doesn't seem to have stopped yet!"  Hmm, maybe I'll see if I can get those nice fellas over at NHK weather to hook me up with a part-time gig playing tarot card weather forecasting.
I eventually ventured outside between the intermittent downpours to make my way to work.  On the way I saw another one of those mini-cars I've been seeing so much of lately.  Swiftly grabbing my camera I documented the moment for all.  Check it out.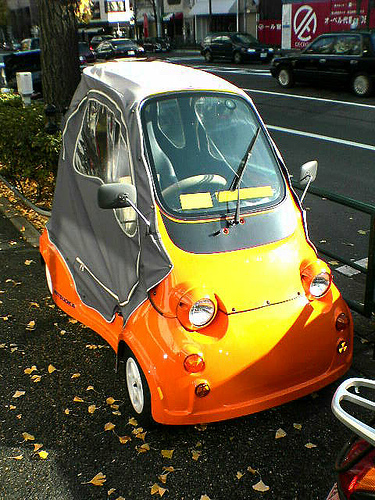 Now, exactly how many clowns do you think could
fit into that thing?