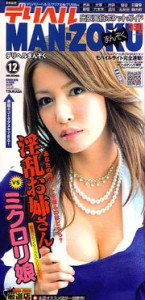 This is the 1st of 2 articles about Delivery Health in Japan. The 2nd (newer) article can be found here.
Ever taken enough time in lawson 7/11 or FamilyMart to actually check out the magazines they're selling?  If you're like me you probably haven't.  But just the other day out of complete boredom I did just that.
Ok, so the vast majority of the magazines are women's beauty and glamour mags and most of the rest are men's gravure or porno mags.  Then of course there are the manga books, but usually in a different section because we wouldn't want to have the kids manga on the same shelf as the men's pornos would we.
But finally you should find a small selection of magazines with the words デリヘル or  でりへる printed on them.  These were the ones that caught my attention because I couldn't for the life of me figure out what デリヘル stood for.  A google search showed me that the words are short for delivery and health.    The one shown here is titled Manzoku which means satisfaction.
Like a lot of non-japanese words that have been integrated into the Japanese language I don't quite get how the terms Delivery and Health came to be used in the way that they are.  If my basic understanding is correct, Delivery Health service companies have been around in Japan for about 10 years, and the gist is that if you place an order with a Delivery Health service company within 45 minutes to an hour you are going to wind up with a beautiful young-ish girl ringing your buzzer (literally).  Sorry ladies, apparently the service does not yet extend to the delivery of male health service providers.
From what I have been able to piece together through limited research the story is that, since the Japanese laws are apparently a little ambiguous on exactly which sexual acts qualify for a criminal charge of prostitution, these Delivery Health services seem to circumvent the problem by offering anything and everything short of vaginal sexual intercourse.
In fact here's a translated screenshot of a Delivery Health service's website.  I'm fairly confident that I'm not actually violating their copyright by re-printing it here because this version has been run through a Babelfish translation service and so it is therefore markedly different than the original.  However, if you want to see the original just go here, and if the Delivery Health company wants me to remove the screenshot of their website I will.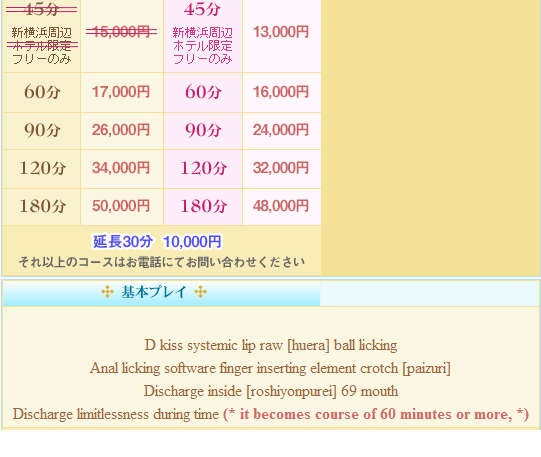 Well, as you can plainly see the list of included "healthcare service" extends to such basic acts as ball-licking, 69 and element crotch (use your imagination).  However, since no one really knows what goes on behind closed doors, after your Delivery Health service provider arrives, there's a good bet that your Delivery Health includes the full health check-up.  And, as for the 2000 yen discount listed on the 45 minute health session, I imagine just like everyone else these Health Service Providers are also suffering from the current recession.
Although not quite the same as a デリヘル magazine the much smaller pink chirashi leaflets arrive conveniently in your mailbox every week.  Here's one with and without translation.  Although I couldn't determine the original source for the pics (or translation) with any degree of certainty I found them with a quick google image search.  Again, they seem to be offering the same kind of delivery health service albeit with a far more of a "schoolgirl" than a "health" twist.
 So what's the message of this post?  Umm, I don't think there is one.  But, I guess the next time you're cruising through the convenience store stop for a second and check out the magazine rack.  You might be just as surprised as I was to see what's hiding in plain sight. This was the 1st of 2 articles about Delivery Health in Japan. The 2nd (newer) article can be found here.