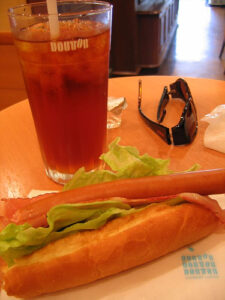 When is a hot dog not a hot dog?  When it's a uniquely Japanese dogawich of course! 
Recently,  six-time Coney Island Fourth of July hot dog eating contest champion Takeru Kobayashi was treated to a few hours in the big house for his antics at the annual Nathan's Famous International Hot Dog Eating Contest held in Coney Island, NY. 
The contest was ultimately won by USA's very own son, Joey "the Jaws" Chestnut.  But mine is not to comment on whether Kobi deserved his trip to jail or not, rather it's to explore the depths of the topic for this month's Japan Blog Matsuri hosted by Mokudekiru, ちょっと違う (Chotto Chigau)
or…"Not Quite the Same"
Namely, how Japan has taken the traditionally American past-time of chompin on a dog, and turned it into the uniquely Japanese dogawich.  Exhibit A, the Japanese dogawich on the top portion of the screen – versions of the dogawich can be found at nearly all of Japan's major coffeebars, this is Doutor's version.
Exhibit B, the American Fenway Frank, 3 versions of which can be viewed below.  Are you a bon- vivant, a gastronome, a  connoisseur of those delicacies – onion, relish and saurkraut, or are you a simple ketchup and mustard kinda person?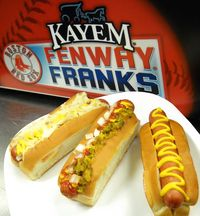 I guess my heart still has a fond place for the American hot dog and has not yet accepted the numerous virtues of the Japanese dogawich … how about you?
"This article is a submission for the Japan Blog Matsuri hosted by Mokudekiru"